NEWS
12/18/13: THIS JUST IN: LAST MINUTE THING! CYBERMONTHDAY! EVERYTHING 50% OFF! Who cares what day cybermonday is, you can put things on sale whenever you want!
7/18/13: Hi! If you're wondering what i've been doing all this time that i've been largely ignoring my comics you can see the answer here or here! In comics news, here's a coupla me-related links I recently discovered! One's my comic appearing in Issue 8 of the awesome site, The Media, and the other is another really nice review by Rob Clough, this time of Important Comics, Volume 2. Thanks guys!!
4/30/13: Check out these terrible cell phone pictures of the very beautiful portuguese comic Antilope #1 that graciously decided to include me! If you are in a place where you can pick this up i highly recommend it. This is such a class act i'm lovin' it even though i can't read it!



An hey you can also lookit this here nice review by Rob Kirby.
4/3/13: My work will be a part of the Long-Arm Stapler First Aid Exhibition at Spudnik Press in Chicago from April 20th - May 31st! Stop and have a look! Opening reception is April 20th 6 - 9. Thanks to Liz Mason for inviting me!

If you are not in Chicago perhaps you will instead want to attend the 2013 Wham City Comedy Tour from April 10th - April 28th all across the east coast! Come see us do what we believe to be "comedy" but is mainly an excuse to cram ourselves into a van together for 3 weeks.
2/7/13: If you are in Columbus in the next month check out my books at the Roy G Biv gallery! They're on display (and available for purchase) along with my non-comics work and alongside the awesome comics and drawings of Sarah Drake. Up until March! Also after a brief blip, Why Is My Easy Easy Life So Hard is back in stock in the store :)
1/20/13: Whoa, hey thanks to Bob O'Brien for pointing out this very flattering review of Why Is My Easy Easy Life So Hard? on Baltimore Fishbowl. It's from December! Google Alerts, you are fired.
12/8/12: FINALLY! My new book, published by Hic & Hoc Publications is now available in the store! Also is available my new "No Way" t-shirt. Please note that these shirts are only in "Unisex" (aka Men's) sizes because that girl/boy stuff was getting way too complicated. You may commence doing all your holiday shopping via my website now. :D


12/4/12: Hey, if you're in NYC check out the new Booklyn Pop-up shop from Dec. 7-9th! Go ahead!

11/27/12: Whoa it's been forever. But look! A new book! Published by Hic & Hoc Publications! Available online soon. I'll be reading from it on this mini-micro tour with Pat Aulisio, who's also debuting a new book with H&H and Alan Resnick who's just great all the time: Philadelphia 12/1/12 w/ Box Brown, NYC 12/2/12 w/ Lizz Hickey, Brian Blomerth, and Gerty Farish, Baltimore 12/8/12 w/ Sarah Milinksi screening the short film, Sometimes. Come out and say hi!

9/23/12: Second Place in the 2012 Best of Baltimore Readers' Poll! Thanks Readers!!
9/17/12: Thanks to everyone who came out to SPX! I only got to go for Sunday but I MET CHRIS WARE so i really don't care what happens from now on. He was so nice! What a great guy!! Oh, also, in less exciting news: my new books is now for sale.
IMPORTANT COMICS DESERVE OUR RESPECT
(APERIODIC COMICS VOL. 2)
$12.00 including domestic s/h
(email to arrange international orders)
.9/13/12: Here's an interview comic i did for Tiny Mix Tapes with friends Lesser Gonzalez Alvarez and R.M. O'Brien in light of their new collaborative poetry book, Birds Blur Together. We talked about what it's like to go from music-making to poetry-making. It was real fun and they're great! (First page of comic is below, read the rest at Tiny Mix Tapes!)

[Read the rest of the interview here]
8/31/12: IT DRAWS EVER CLOSER. SPX2012 September 14-15! You can find me and my new book, Important Comics Deserve Our Respect (Vol. 2), at the Atomic Books table (C1, C2B)


poster by Chris Ware
8/9/12: A nice review of The Regular Man on Bookgasm today! Yes, BOOKGASM.
7/27/12: Ohhh there's so much to dooooo!!! SPX in Sept, BCGF in Nov, new book via HIC/HOC, and DAN FRIGGIN CLOWES is coming to Atomic Books in a month! EEEEEEEEEE! For the time being sate yourself by visiting the Rum Riot Press show at Space Gallery in Portland, Maine. Lotsa books! More pics on flickr too

7/11/12: I'm leaving town for a week! In honor of this occasion I have posted City Paper comics two weeks in advance! What a thrill! Come say hi to me while I admire my hilarious boyfriend from behind the merch table on this tour: ALAN RESNICK / LOWER DENS / NO JOY
6/24/12: Quimby's, the baddest-ass comics store in Chicago asked me to draw a bookmark for them! And i did! You can't tell by this scan (*scanner-photograph?) but they are SO SHINY. Send me an SASE if you want one! Alternately, visit or live in Chicago and stop by Quimby's to pick one up. You should be going there anyways! And if you live in Baltimore you should be going to Atomic Books where i will also put some out. Mark your books!

6/16/12: Maybe you want to come see my new play? It's once again time for Baltimore's 10-Minute Play Festival brought to you by the Un Saddest Factory! My new play, Try or Let Things Go is being directed by the wonderful Lola Pierson and the wonderful Cricket Arrison and will be shown B nights. You should watch all the plays though!
6/11/12: Have I mentioned that I'm going to have a new book coming out later this year from Hic & Hoc? Well I am! I thought I should tell you. Maybe you will like it! Should be coming out around November. Also watch for me ACTUALLY releasing Important Comics Deserve Our Respect aka Volume 2 of my web comics at/around SPX this September! That sure took longer than anticipated! In other old news, here's my comic from this year's Mutant. I think some may still be available from Atomic Books? (The theme of this year's Mutant is parodies, mine is in the style of Jim's Journal, a comic that changed my life and that nobody seems to have heard of despite the fact that it's drawn by the guy that started The Onion.)

5/14/12: Please feel free to come watch me be utterly terrified and humiliated as I talk about my work at the Sofiajacob Lecture Series at Floristree on May 23rd. Also artist lecturing will be Alex Lukas who will probably sound way less dumb than me. Look at this nice poster that Jordan Bernier (who also curates the sofiajacob gallery and lecture series) made! The posters will be for sale (i think they're actually just free with a suggested donation???) at the lecture. You should go to all these lectures anyway cause it's a great thing!

5/13/12: Hiiiiiiii. I haven't been keeping you abreast of this enough, but you might want to realize that the 1,000 Fathoms radio show has been blazing along this whole time! Of course that means, most importantly, that there are now 4 episodes-worth of Brian Durel's Important Comic Insights. Check it out! And keep clicking that picture to stay aware of all things 1,000 Fathoms:
4/29/12: OKAY SO MAY 5TH AND 6 HAVE A LOT GOING ON.
FIRST OF ALL: May 5th and 6th the short-film adaptation of my play, Sometimes, directed by Sarah Milinski will be premiering at the Maryland Film Festival! Starring Cricket Arisson, Mason Ross, Adam Endres, Caitlin Williams, and Lesser Gonzalez and Baltimore. A labor of love! Featured in the Dark Comedy Shorts selections and screening May 5th at The Windup Space and May 6th at The Charles Theater. See you there!




SECONDLY if you are lucky enough to be in Canada you should look out for my books at TCAF at the illustrious Hic & Hoc table! MAY 5th & 6th FREE ADMISSION!



AND LAST BUT NOT LEAST: May 5th is Free Comic Book Day as you are no doubt aware. I did a strip for Atomic Book's annual offering, Mutant. This one's #3 and it's all parodies. So far i have been lead to believe that nobody knows the comic i'm parodying whoops. Nonetheless, there is some really killer stuff in this sucker! And it's FREE FOR GOD'S SAKE

4/20/12: I'll be tabling at the Open Space Publications & Multiples Fair on April 28th and 29th! Come say hi! Buy something! Check out all the other beautiful work for sale! Baltimore's foremost DIY publication fair is not to be missed.

3/24/12: Very Soon! Wham City Educational Seminar!
Finally a chance to better yourselves. For god's sake take some initiative. I'll be administering the Intro to Plants and Robots Loving Each Other Final Exam. No. 2 pencils will be provided.
3/29 - Washington, DC @ Subterranean A
3/30 - Philadelphia, PA @ Kung Fu Neck Tie
3/31 -NYC @ CULTUREfix
4/1 - Rosendale, NY @ Market Market Cafe
4/2 - Wiliamstown, MA @ Wiliams College
4/3 - Baltimore, MD @ The Whole Gallery
3/10/12: Another very flattering review by Rob Clough, this time covering Important Comics Are Bad and The Regular Man. I really love the title, Give the People What They Don't Want. Thanks Rob!
3/2/12: John Porcellino! Atomic Books! Me! With those puppets! Doing something!

2/23/12: Hey! I keep meaning to post on here about how episodes 1 & 2 of 1000 Fathoms are online and ready for you! You may recognize 1000 Fathoms as the child of Erin Gleeson's popular Let's Be Self-Sufficient Podcast. That podcast has morphed into the even-more-impressive 1000 Fathoms, featuring skits, bands, interviews, and each ep includes the triumphant return of Important Comics with Brian Durel! Your prayers have been answered! Listen below and/or check out the site itself at 1000fathoms.org.

EPISODE 1


EPISODE 2

2/18/12: Whoohoo! Rob Clough included Relax in his Top 30 Minicomics of 2011 on The Comics Journal! Thanks Rob!

1/30/12: FINALLY! THE REGULAR MAN IS NOW AVAILABLE!

Collects all 23 issues of this now-defunct monthlyish periodical! 64 full-color pages including issue covers and space for notes. $15 including shipping/handling! Also becoming available at your local comic store any time now.

Read the blurb by Connor Kizer on the back, if it doesn't convince you nothing will. (And no, I don't know why I picked this photo where it looks like I've been beaten up.)

12/9/11: Restocked the store with t-shirts (all sizes available again!), prints, and a new mini-comic!
CHECK IT OUT! Remember to order by December 18th to guarantee shipping by Christmas!

12/2/11: BROOKLYN COMICS & GRAPHICS FEST TOMORROW! Sadly I had a printing malfunction and the two books I was supposed to premier there will not be done in time, so in order that you might still feel satisfied I will be offering discounted pre-orders available at the BCGF ONLY and all ready to ship by Christmas! Only $8 for Important Comics Volume 2 and $10 for The Regular Man! What a scoop! Also I have made a little new zine of some old work and some new work called We Can't Get Up. And I'll have shirts and prints and free crap and my other books and and and and and. See you there!
(P.S. New books will be available at regular price online)
11/23/11: I have a full page comic in this week's holiday issue of the Baltimore City Paper. It's called "Our Decembers" and it's about holidays you most likely don't normally hear about and therefore i have probably alientated my audience once again. Enjoy!

11/14/11: P.S. My new website is finally up! --> DINAKELBERMAN.COM <-- That one, like this one, is still in progress. I've moved everything that's not drawing-related to that site so check it out! Also i promise to get my act together and get the other content back up on this site. I swear it!!! Thank you that is all.
11/13/11: Man I need to update this website! I've been busy!! Working on lots of stuff, including making advance copies of two more new books!! It's all in frantic anticipation of the Brooklyn Comics and Graphics Festival on December 3rd! You gotta go it's great! I'll have a new collection of Aperiodic Comics AND a collected book of all 23 issues of The Regular Man, as well as bumches of other stuff. I'll post some cover images soon, in the meantime here's Lisa Hanwalt's sick poster for the BCGF: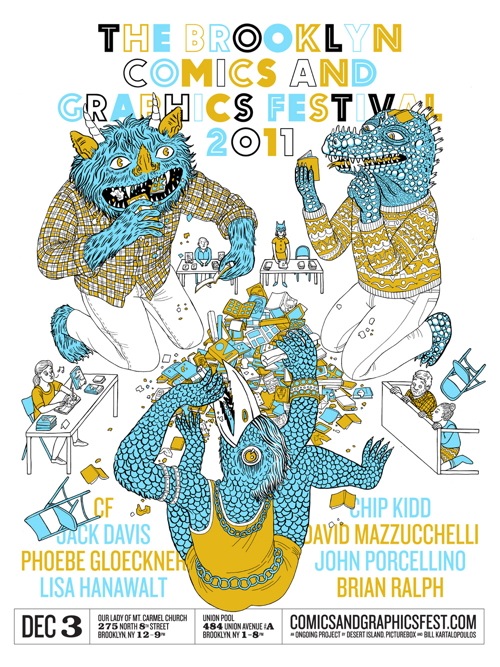 10/3/11: HEY i'm going to have some comics in an art show called Momento Maury curated by Michael Farley! Opening 10/22 and running for 3 weeks in the City Arts Building in Baltimore. More info on facebook and this flier!

In other news i continue to slowly re-website this website. Reviews, interviews, & more stuff can now be found on the press page.
9/26/11: I got my computer out of the shop! Maybe it's fixed! Only time will tell. At any rate, here are some swell reviews for Important Comics Are Bad via Midnight Fiction and Impose Magazine! Thanks ya'll!! Also you will be hysterical with delight to know that Brian Durel will be taking back up the Important Comics Podcast sometime real soon! More info on that to come.

OH OH BUT THE BEST THING IS i got voted Best Local Cartoonist/Illustrator in the Baltimore City Paper's 2011 Best of Baltimore Reader's Poll for the 2nd year in a row!! THANKS READERS!!! I LOVE READERS!!!

(p.s. slowly re-upping site)
9/12/11: 2 new books! Important Comics Are Bad is a collection of the first two years (ish) of my weekly comic in the Baltimore City Paper and Relax is a 12 page one-shot about how I'm uptight. My first foray into a long-running narrative! Both are available online and will soon be arriving at comic stores all over.

9/9/11:I SUDDENLY MADE A NEW WEBSITE!! :D Not everything is back up yet but now i already can't stand looking at the new site anymore. Updates coming asap!
9/8/11: SPXPLOSION TOMORROW NIGHT! (I'll be reading some comics and also telling people not to put their drinks down on the books!) SPX THIS WEEKEND! (I'll be at G2 & 3 with Melody Often and Catherine W.!) Hopefully this box of new comics shows up tomorrow in which case i will have something brand brand new to show you. Otherwise i will be writing a very complainy email. Here's hopin!